Please join us 'down under' for one, the other, or both events in mid-year 2018
Event 1 – Astrobiology Australasia Meeting, Rotorua, New Zealand, 25-29 June, 2018
New Zealand — A Meeting and Travel Destination to Middle Earth
The next Astrobiology Australasia Meeting (AAM 2018) will be held 25-26 June, 2018 in Rotorua, New Zealand, organised by Haritina Mogosanu (New Zealand Astrobiology Network) and Professor Kathy Campbell (University of Auckland). Talks and posters on current topics in astrobiology will be followed by a three day field trip to the diverse and spectacular geothermal features of the central North Island's Taupo Volcanic Zone (2Ma-present). The TVZ is one of the most active volcanic regions on the planet, complete with its own supervolcano and high geothermal heat flux. Hot springs of varied fluid compositions will be visited, including the world renowned, Au-bearing Champagne Pool and the colourful microbial mat-draped, fault-bounded sinter terraces of Orakei Korako, to mention only two. New Zealand is also famous amongst astronomy buffs for its South Island Dark Skies and wide open views of the Milky Way, and amongst marine scientists for its extreme environments offshore – hydrothermal vents, hydrocarbon seeps and gas hydrates. Visitors to New Zealand, both astrobiologists and non-astrobiologists, will also encounter a vibrant Māori culture, stunning natural landscapes, and multiple film shooting locations crammed into a country the size of California. Come enjoy some friendly Kiwi hospitality in a Southern Hemisphere gem of a place to visit. Be sure to bring warm clothing in case of rain during our cooler winter months as well as your togs (aka bathing suits) for hot pool soaks!
---
Conference themes
Contributions in the general fields of astrobiology will be considered but we particularly welcome offers of presentations on the following special themes:
Contributions from Southern Hemisphere astrobiology
Space exploration and astronomy, including SETI
Biosignatures of early Earth
Modern analogues of early and martian(?) life
Science outreach and education in astrobiology
Key Dates and Locations
Meeting: Monday 25th and Tuesday 26th June 2018.
Ice breaker on Sunday 24th June 2018.
Post-conference field trip: Wednesday 27th-Friday 29th June 2018. Diverse modern and fossilized geothermal settings of the Taupo Volcanic Zone. Numbers limited.
Early bird meeting and field trip registration opens in December 2017. Details to follow.
For more information, click here to go to the official meeting website.
Event 2 – Astrobiology Grand Tour, Western Australia, 1-9 July 2018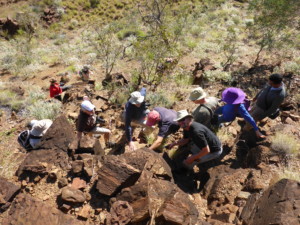 The Australian Centre for Astrobiology at UNSW is running another Astrobiology "Grand Tour" in July 2018, led by Professor Martin Van Kranendonk, a leading expert in Precambrian geobiology. This field trip in Western Australia will visit sites that every astrobiologist or geobiologist should see at least once in their lives. It will be a high level educational and cultural/sensory experience that will enrich all participants – scientists and non-scientists alike!
The trip will traverse back through time, starting with the spectacular, living stromatolites of Shark Bay, with a rare opportunity to swim with these protected microbial structures. Following this, we will visit the remote sites of fossilised stromatolites from the c. 1.8 Ga Duck Creek Dolomite and c. 2.4 Ga Turee Creek Group, and walk through the transition across the rise of atmospheric oxygen (the GOE). We will then camp at Karijini National Park and hike through a canyon with walls made of 2.5 Ga Banded Iron Formation (BIF), and swim at the beautiful Fortescue Falls. Following this will be a visit to stromatolites of the c. 2.7 Ga Fortescue Group, then the c. 3.35-3.49 Ga fossiliferous units of the Pilbara Craton, including newly discovered geyserite in the Dresser Formation, site of the oldest evidence for life on land.
Expect intense discussions about such topics as the timing of the origin of life and oxygenic photosynthesis, whether life ever was (or still is) on Mars, the composition of the Archean atmosphere, and the setting for the origin of life. As well as the science, we will enjoy some spectacular scenery, memorable campfire dinners, and sleeping under the southern stars.
Daytime temperatures will be mild (20-30 ° C) dropping to 5-10°C at night. Rain is possible but unlikely.
Key Dates and Locations
Dates: Sunday 1st – Monday 9th July, 2018.
Location: Western Australia, starting in Denham (or Carnarvon, TBC) and finishing in Port Hedland.
Transport: 4WD Bus.
Accommodation: Outdoor camping (tents, swags).
Places will be strictly limited because of the capacity of the 4WD bus and camping facilities to be utilised.
For more information, click here to go to the official website.