Elon Musk plans to send people around the Moon for only $153 NZD per kilometer. That makes it for a total of 100k NZD for one passenger.  Expensive? UK's The Guardian explains how much we pay when we take the British Underground: $25 NZD/km. this is, according to them, by far the most expensive ticket rate known to man. The bus is next most expensive, with a cost of $19 NZD/km, and both are far costlier per distance than the most expensive airline ticket (the Etihad's penthouse), which costs only $3 NZD/km.
The mission, according to USA today,
"presents an opportunity for humans to return to deep space for the first time in 45 years, and they will travel faster and farther into the solar system than any before them"
So…..should the world be wary of Elon Musk's space race?
Professor Kathy Campbell (shown below), of the University of Auckland, discussed this topic with Duncan Garner on Radio Live.
Listen to the recording here.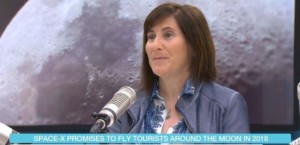 Save
Save